Professional Concrete Contractor Company in Roseville CA
Roseville Concrete Solutions is Roseville's number one concrete contractor. If you're looking for concrete pool decks, patios, concrete driveways, or stamped concrete foundations, Roseville Concrete Solutions is the one for you! Read on as we dive into everything you need to know about Roseville Concrete Solutions.
Fill out the form below and a team member will get back with you as soon as possible.
Expert Concrete Contractor In Roseville, California
Roseville Concrete Solutions is a locally owned company with over 20 years of experience. Throughout our years of operation, we've always strived to ensure that the needs of our clients are met. We pay the highest attention to fine details to ensure that our customers get the service that they require. 
Roseville Concrete Solutions has a proven track record to complete just about every job that you have. Over the years, we've managed to significantly improve our skills making us number one in Roseville, CA. Check out our partners that provide an equally high quality of work at outdoor kitchen Roseville.
Call us today for your quote about your concrete project!
Call Today For Your Free Estimate
The Benefits Of Choosing Roseville Concrete Solutions
Just like other companies that offer high quality services, we aim to do the same. So, when you're working with a Roseville concrete contractor, it's important that you select from the best.
Concrete Services That We Provide
There's no concrete job that is too big or small, we can do it all!
With an all new concrete patio, you'll be able to create the perfect backyard for relaxation and entertainment. You'll be able to do just about everything else you can think of on your new concrete patio.
Our experienced contractors will install the neatest and most slick concrete walkways & stairs that you will ever see. No matter the location, tell about your vision and we'll make it come true.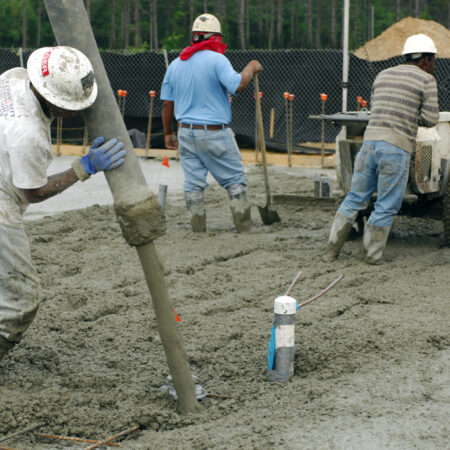 We provide professional concrete foundations services to both our residential and commercial clients. Our team of expert contractors will deliver a sturdy foundation to your property.
With a concrete driveway, you can finally say goodbye to cracks because with just a couple of slabs, you'll have the perfect driveway in Roseville, CA.
Enhance the look of your home by decorating your patios and walkways with stamped concrete, giving it a new refreshed look but maintaining the best durability.
Our concrete decks are not only sturdy but they'll last for a lifetime. If you're planning on having a custom piece done, call us today!
Your Hometown Roseville Concrete Contractor Company
We've been doing concrete services in Roseville for 35 years, and chances are you've already heard about us. 
Give us a call today for a FREE estimate! 
What To Look For When Hiring A Concrete Contractor In Roseville, CA?
Create A List Of Contractors
Before you can get the job started, you need to go through the daunting process of selecting a contractor. Add this company to your list of service companies if you need mobile windshield repair Roseville CA and they will be sure to take care of you.However, when you create a list, it will be easier to narrow down based on the information that you gather about them. You can easily ask friends and neighbors or even browse through the yellow pages.
Experience Is Key
All companies were at a starting phase at some point in their history and if it weren't for word of mouth, they generally wouldn't be here. So, when it comes to hiring a concrete contractor, it's best to go for someone who is experienced as opposed to someone who's still in the baby stage of the company. You can reference our friends who provide roofing services in Roseville. Take a look at Roofing Contractors Roseville CA for more information. Check out our partner over at concreting Newcastle for experienced craftsmanship. It should be noted that while some with less experience charge a little less, the quality of work and lack of knowledge isn't always worth it.
Licensing And Insurance
While you're discussing your job with the contractor, it's a great idea to enquire about their insurance and licensing status. If a contractor isn't licensed, he isn't committed to following the state laws and there's a good chance the he wouldn't follow codes either. Additionally, you'll also need to enquire about his insurance because with a little negligence, you'll be the one paying the bills.
References
Contractors with proven track records aren't afraid to. So, if your contractor is avoiding it, you might want to look elsewhere.
Read a few of our client's reviews. Our customers are what makes us strive the be the very best Deck and Fence Installation Experts in Aurora and the surrounding areas.
[rt-testimonial id="1449" title="testimonial"]
Serving Roseville And Surrounding Areas
Monday – Saturday | 8am – 6pm